I happened upon this blog
iSpy Sketches
and so enjoyed their blog with the Special Agent theme, mystery and intrigue. I love reading and watching mysteries and knew immediately that I wanted to be a part of this challenge. So this card is for their ISSC03 based on this sketch below.
This card is also being entered in the
Cas-ual Fridays
challenge CFC #40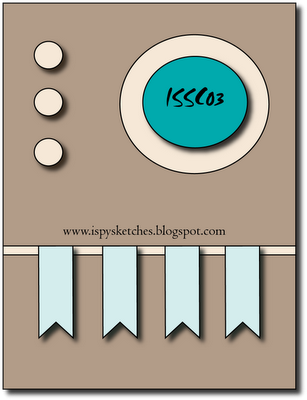 To make this card:
I used a 5 x 5 black cardstock base. As I was digging around in my craft room, I came across a peice of already stamped honeycomb image, that must have been left over from a class I taught many years ago. So that is what I used. It was cut down to 3-1/2" x 4-3/4".
To complete this card:
I used the George and Basic Shapes to cut a 2" white circle, Elegant Edges, page 28 <Flower1-s> cut at 2-1/2" in red and the Walk in My Garden, page 109 cut two 1" green <leaf1> using the blackout feature. I stamped my image and sentiment (both Close to My Heart) on the white circle, colored in the bumblebee with my Tombow markers. Added pen ink stitches around the flower and leafs. I distressed all edges, including the honeycomb paper. My finishing touches include 3 large black brads, red gingham ribbon and banners. I used some daisies from a ribbon that was in my goodie box I purchased at
The Crafts Meow Shop,
which has been some much fun! And last but not least, a black baker twine ribbon bow with a black brad in the center was added to the flower.
So Be Happy and Catch the Frenzy!