I wanted to share with you today two things...
First - I won Top 3 Spotlight at...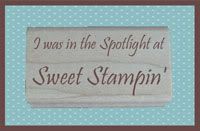 You can see my Top 3 Spotlight card HERE
and Second - I won all these stamp sets from Jaded Blossom - HERE
I was randomly selected for commenting on every Guest Designer post through December.
Twenty Seven days of commenting, I think??
Usually I can't keep up, but this time... I made sure I did!
And boy did it sure pay off for me - Yippee Skippee!
The entire NEW JANUARY 2013 STAMP RELEASE which you can find in their store - HERE
Oh, I also received this little set for Guest Designing in December.
It sure was fun getting HAPPY MAIL this week!
If you haven't checked out Jaded Blossom before make sure you do.
Their stamps are all about party favors and little gifts. So much fun!
Now that I have new stamps to play with...I need some candy, bags, tubes, etc...
Thanks for stopping by today - Catch the Frenzy! - Karen