One last Valentine card to share...
I wasn't going to post today, but since my hubby and I had no plans for Valentine's Day, as I am still recouping from a Medical procedure I had on Monday morning, I decided to share a card that was inspired by two little rose candle's a co-worker gave to me as a gift at Christmas. She found them in a shop in Ashland, OR and they are so sweet (Thanks Kim!). Shortly after getting these candle's, I received my Flower Shoppe cartridge in the mail and wanted to play around with making some roses. Anyway, the result is the card pictured below.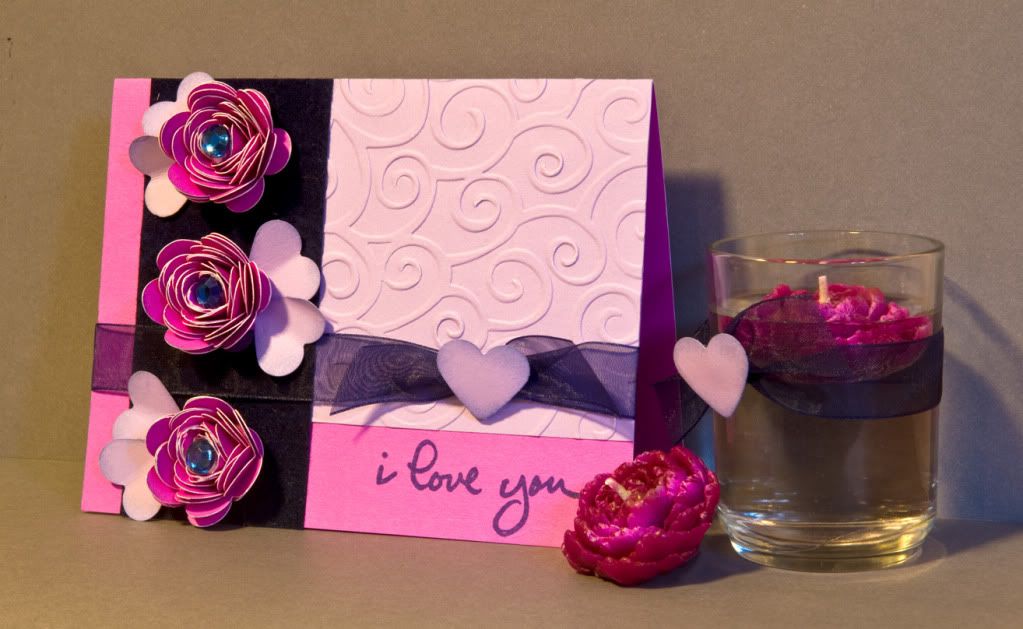 To make this card:
A2 bright pink cardstock for base of card. I used the Flower Shoppe cartridge to create my roses in the same bright pink color, adding blue rhinestones to the center of each rose. I ran a light lavendar paper through my Cuttlebug using the swirl folder. The dark blue paper is a velvet peice I found in my stash of paper.
To complete this card:
I used a heart punch to create the light lavendar leaves, sponged around the edges with Navy ink and stamped the message in the same ink color. I also added a dark blue ribbon to the card.
I hope each of you enjoyed your Valetine's Day with your someone special. My someone special just arrived home with my favorite ice cream - Mint Chocolate Chip! He is so good to me!
Catch the Frenzy!