Today I have 3 posts share, so make sure you check them out.
We have been invited to a Super Bowl party, so I wanted to make sure I got all my cards completed, my blogging done, and challenges linked before we left the house. I am also teaching a card class with some wonderful friends Monday night. All my samples and prep work also done.
These 2 little cuties were created for
Fantabulous Cricut
Challenge blog - #96 Valentiny Cards 3 x 3 and for my card class Monday night. I can only enter one in the challenge, but wanted to share both cards on my blog.
To make these cards:
For Bee Mine easel card...
White card stock for base of card. You will need 1 piece cut 3" x 6" for base of card, another piece cut at 3" x 3" for front of card and the last piece is 1-1/2" x 3" for inside. The red pattern paper is cut at 2-3/4" x 2-3/4" and another piece cut at 1-1/2" x 3" 
Cartridges used:
Create A Critter
- page 68 <Bee> cut at 1-1/2" with layers and beehive using the Accessory feature cut at 2-1/2". I used scrap cardstock to create the Cricut cuts in Yellow, White, Black and Blue
Elegant Edges
- page 65 <Flower3> using the Oblong feature cut at 2" Yellow and 1-1/2" White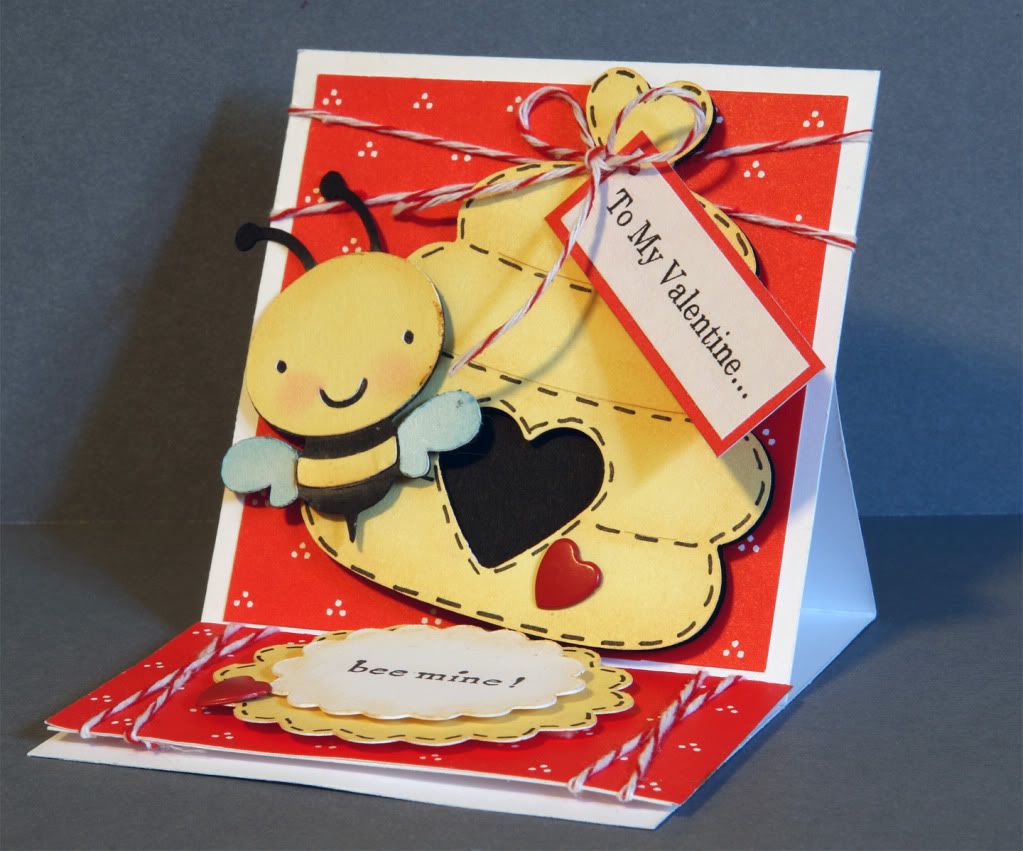 side view
 To complete this card:
I used a heart shape punch to create the opening int he beehive. Created the To my Valentine message on the computer and stamped the bee mine! message on the white oblong shape. Added red heart brads and red bakers twine as seen in the photo. Adhere all pieces working back to front as shown in the photo.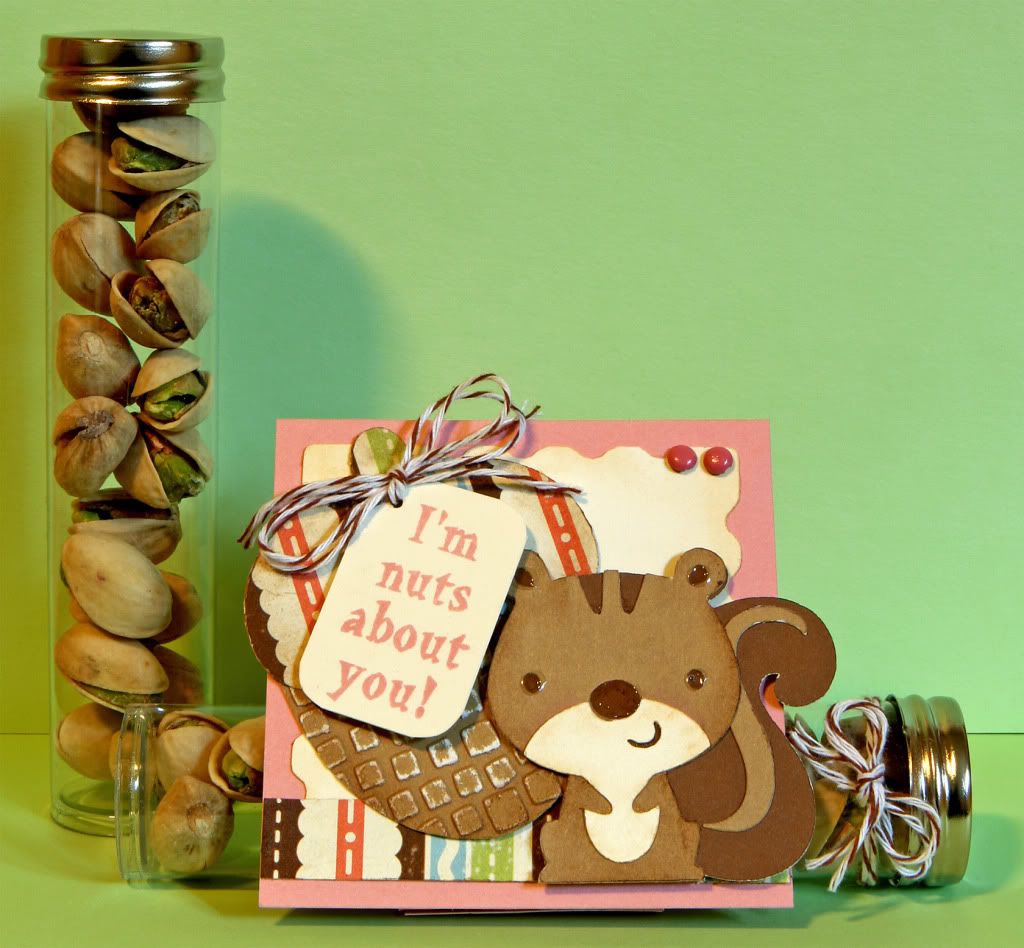 I'm Nuts about you!
Cut 3" x 3" Pink cardstock for base and another piece of pink cardstock 1-1/2" x 6" for back easel piece.
Cartridges used:
Create a Critter
- page 32 <Squirrel> cut at 2" and all layers. Acorn piece is cut at 2-1/2" using the Accessory feature.
Elegant Edges
- page 37 <Stamp-s> cut at 2-1/2" in cream cardstock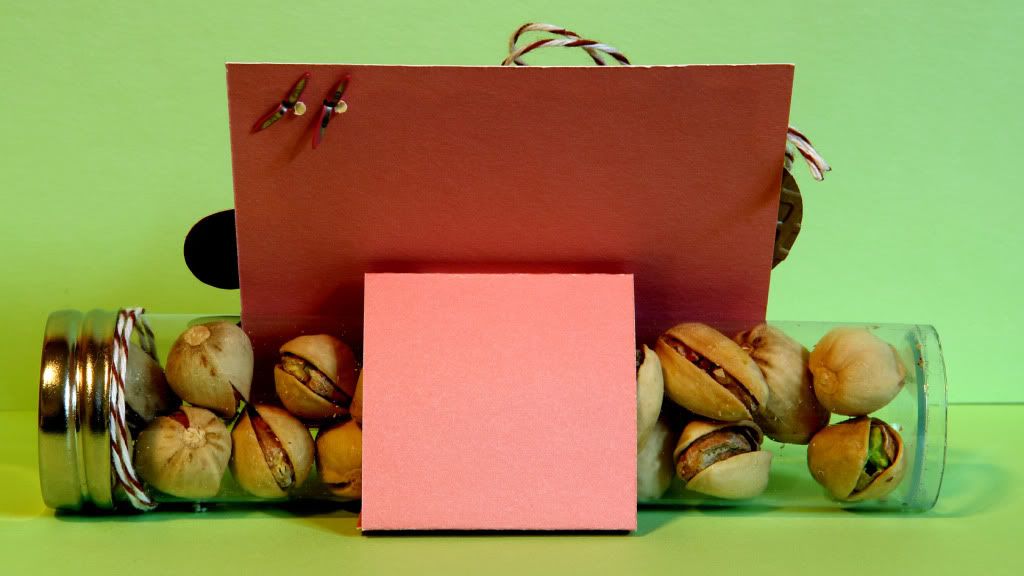 Back view
To complete this card:
I ran the acorn through my Cuttlebug using the tiny Mosaic A2 folder then sanded the front. Stamp the message, (from Close to my Heart) in pink on a tag I cut myself and rounded the corners. I then added chalks to the edges, pink brads to the top right corner and brown bakers twine to finish the card. I filled a tube with pistachio nuts and tucked under my easel tab at the back.
Keep reading two more post below.
Catch the Fenzy!