Today my sharing is a card I made for
My Craft Spot
challenge #46 - Make us laugh. I do not have much in the way of stamps with funny sayings or puns, but thank goodness for the computer and the ability to use it for searching. I did find a great website for
Top 100 animal puns
. Korney, silly puns to use on cards, which I did for my submission. I hope you'll enjoy it and think that it's punny! or at least make you GIGGLE!

To make this card:
I started with an ivory A2 cardstock card. I then added patterned paper to the background. Polka dotted paper is cut 3" x 4-1/4" and the diamond pattern paper is cut 2-1/2" x 4-1/4". All paper from Close to My Heart.

Cartridges:
Ultimate Creative Series Sampler, which has so much to offer. I used Bonus 4 for the lion, which is Image13 with layers cut at 3-1/2". You can also find this lion in the Animal Kingdom cartridge. The grass is on the Bonus 5, Image42 cut at 1-1/2". This image can be found in the Plantin' SchoolBook cartridge. And the last image I used was the hat and layers, Bonus 2, Image15 & Image16 cut at 1-1/2", which is from the Forever Young cartridge.
To complete this card:
I chalked around the edges of my images, as well as used a black micron pen to outline the images. Layer all pieces as seen in the photo, working back to front. I gave the Lion some Glossy Accents on the eyes and nose, which I colored in with the black pen first. I added an adhesive pearl to the center of the flowers, one found inside. I created the message on the computer, punched it out with my 1-1/2" circle punch and layered it on top of a red 1-3/4" circle. A GIGGLE ticket from Tim Holtz is tucked under the circle.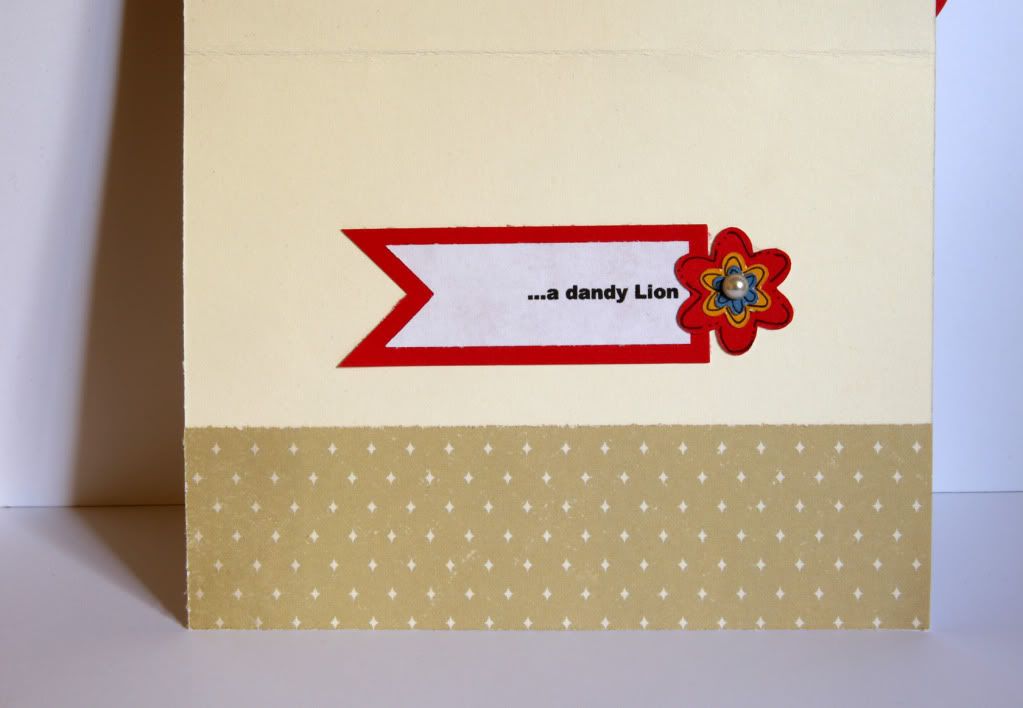 Inside of card
So the question is, "What do you call a Lion wearing a stylish hat?"
The answer, "...a dandy Lion"

Enjoy you evening and thanks for stopping by.


Catch the Frenzy!